*** I have reposted last year's post because we're traveling for the holidays and it was not feasible to buy a tree and decorate the house to take it down on Dec. 23 or leave it up with 2 cats until the 5th of January.

Please take a look of what I would have done for the holidays this year and just pretend like we're partying like it's 1997...errr 2007. ***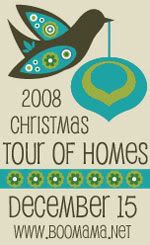 &
Please grab a piping hot cup of cocoa and a warm cookie and make yourselves at home. I'm so excited to be a part of
BooMama's Christmas Tour of Homes
!
I taught my (step)daughter how to make swags, wreaths and garland with the scrub from the bottom of our tree and some freebies thrown in by a local nursery where we bought our wreath. It was so much fun putting together Christmas decorations for the new house and I hope it's a tradition we continue throughout the years.
I think my favorite piece Bailey and I made is the swag for our mailbox. It's so festive and was very simple to make. Bailey and I hunted for pinecones to dress up our greenery and topped it off with a gorgeous, sheer red bow. Best of all when I go to check the mail I get a wonderful whiff of Fraser Fir! :- )
We also made swags for the windows and the porch lights and garland over the front door which we laced with white lights and a cheerful stocking. I think it's very pretty, but unfortunately the pictures don't do it justice.
Brrrr, it's getting cold out here, come on in and let's head to the fireplace!
The kiddos and I made garland for the mantle, strung it with white lights and added christmas ornaments to finish it off. Please ignore my husband's house warming/Christmas present to us. He promises me it won't be above my beautiful mantle forever, but we'll need to hire an electrician to run the cable to another wall!
Here's a close up of it. I just love the way it looks in the living room with all the lights turned off except for the tree and the lights on the garland. It makes me feel all warm and fuzzy inside! :- )
Our stockings aren't hung yet because we're waiting to do that with the kids when they come back, but in the mean time take a look at our beautiful tree!
*edit: I just realized I never cut the top of the tree off where the bow is! I feel silly, now.*
Jason and I prefer white lights if you couldn't already tell! Every year since we've been together I buy an ornament that means something special to us. Here are a few of my favorites.
We got this one the day after our wedding when we were honeymooning in Bar Harbor, ME. It's a gingerbread man and woman with our names on it and our wedding date is on the back. They hang on a beautiful wrought iron hanger with a heart. Isn't it precious?
The next one is S'mores snowman. Jason and I love it; we both love snowman and S'mores, so he was an easy decision! We bought him at Stone Mountain Park which we frequent often!
A few years ago I taught Bailey and Fischer how to make very simple ornaments with the tri-tipped beads and pipe cleaners. We made wreaths, candles, snowman, snowflakes, candy canes and crosses. Here is a candy cane we made, unfortunately the crosses weren't as photogenic. The kids L-O-V-E-D making these. As a matter of fact while they were decorating the tree they asked if we could make more this year!
This is one of my favorites, although it was given to my husband and his first wife, but he kept it. I'm so glad he did!
Lastly, here is our newest ornament. We bought it when we took the kids to Maine for a week this summer. In case you didn't know: I'm a Mainiac (and proud of it!) and Jason and I go back to my home state as often as possible. We bought this in Boothbay Harbor. Jason loves lighthouses and it was such a fun trip. We can't wait to go back. We bought a new house shortly after we came back from this vacation and I was in hopes to buy a "new home" ornament, but I haven't found any I love. I guess I will have to keep looking and at least this time I'll get it on sale since Christmas is almost here!
Sorry, I didn't mean to ramble! Back to the tour! Here is an ADORABLE set of Christmas figurines that I got at an amazing bargain. Aren't they wicked cute? They are a snowman, Moose and Santa Claus and their current home is on my sofa table in the living room. My co-workers have already tried to sneak them home, but I put up a good little fight!
Lastly here are just a few Christmas-y odds and ends. One is a Santa pot that I normally have filled with tissue paper and homemade fudge for the holidays, but I haven't gotten around to that yet and the other is the latest project the kids and I have been working on. We're currently in the midst of baking up a storm of homemade goodies to give to some of my co-workers, dear friends and extended family. Lastly, just a few of our Christmas cards. My mother always had a stairway full of cards, since I don't have any stairs in my home I decided to hang them in the entry to the kitchen.
Well, I hope you enjoyed the sights, lights, stories and the Christmas goodies!
Merry Christmas from our family to yours and be sure to stop in at
BooMama's
and see at what all those wonderful ladies have done to their homes in preparation of our Lord's birth!
God Bless.
~Erica